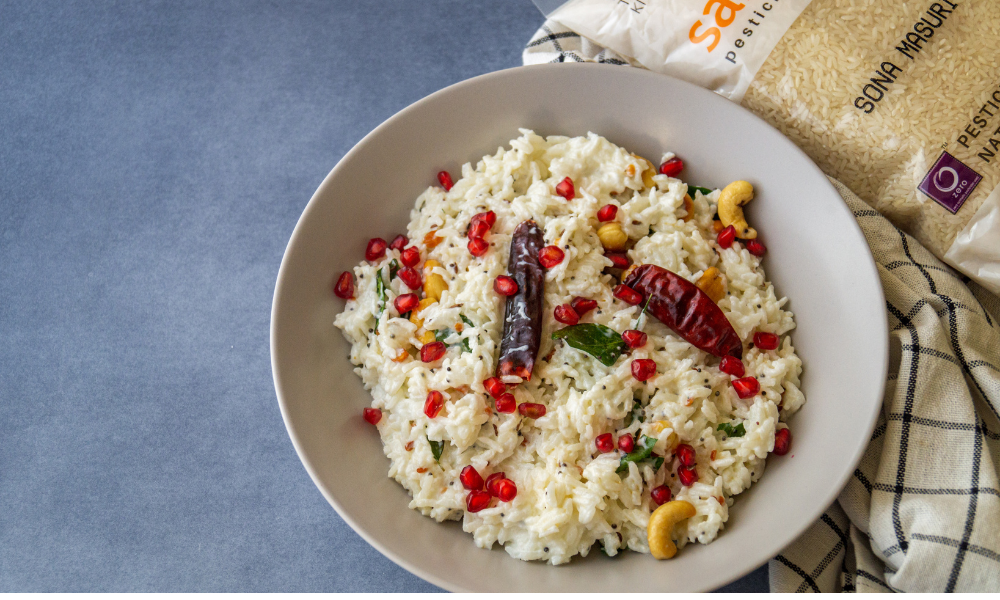 Prep time: 20 min to Cook rice.
Cooking time- 15 minutes.
Serves- 3-4 people.
Ingredients:
2 cups of soft cooked rice.
½ cup or 50 gms of pomegranate seeds.
1 cup or 200 gms of curd.
½ cup or 100 ml milk.
Chopped green chilies- 2-3.
Ghee – 2-3 teaspoons.
Cashew about 50 gms.
Mustard seeds- 1 teaspoon
Chana (split chickpea) Dal- 1 teaspoon
Urad (whole black gram) dal – 1 teaspoon
Jeera or cumin seeds- 1 teaspoon
Dry red chillis- 2
Hing (asafoetida)- 1/2 teaspoon
Curry leaves- a few sprigs
Salt to taste.
Method:
In a bowl, add the cooked rice and curd and mix it up well, such that it is very well combined. Now add some milk and combine, add the salt and once again combine. Set this aside. In a pan, add ghee and fry the cashews, add mustard in the same, let it sputter, and then add, urad dal, chana dal, and jeera. Fry all of them. Add the curry leaves, red chillis, and hing.  Add this tadka to the curd rice and mix it up. Garnish with pomegranate seeds on top. Serve in room temperature or slightly chilled.
Tips:
The amount of water you need to cook the rice will depend on the quality of the grocery you use. It tastes best if the rice is cooked soft.
Do not over fry the condiments for tadka, it may become hard and will spoil the texture of the rice.
You may play around with garnishing, you can replace red chillis with green, add coriander leaves, or a dash of unsalted butter while prepping the rice, etc.