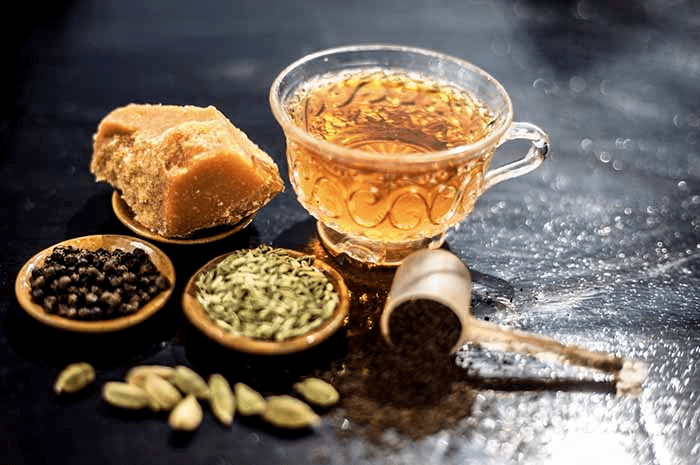 6 Simple ways of including  jaggery in your diet
We live in a time where everyone is trying to find exclusive products for health benefits; when the most beneficial addition to our diet is sitting right in front of us, the good old dadiji's favorite – Jaggery (Gur). In our last article, (Is it time to switch from Sugar to the Goodness of गुड़ (Jaggery))? , we clarified how and why it is high time to shift from sugar to jaggery now. Here, let's talk about how you can include this magic food in your daily diet.
1.Water and Jaggery– It cannot get simpler than this. Add a pinch of jaggery powder to your early morning warm water and voila! It will aid the bile movements and will help in controlling the acidity, all the while making the water sweet and tasty. We all know that a glass of warm water in the morning helps in normalizing body temperature and aids metabolism. Try adding a pinch of jaggery powder to it and thank me later
2.Jaggery and turmeric – Both the ingredients are well known individually for their benefits, but it is a lesser-known fact that they work like a charm together as well. Just take a bit of jaggery powder, add a pinch of turmeric to it, roll it in a ball and pop it every morning; it will work wonders for your immunity and for flushing out toxins as well.
3.Jaggery and Peanuts – We have all eaten this combination in some form or the other in different names – chikki, nut butter, etc. Peanuts are high in protein and Jaggery being high in iron and calcium, complement each other like "Vikram and Vetal". Heat some jaggery powder, add peanuts to it and cool in pancake form for later consumption.
4.Roasted gram with Jaggery –If you are looking for a weight loss snack, gram with jaggery will be your best friend. Roasted gram is high in protein, fiber and vitamins, which helps in keeping the muscles strong and the calorie count low. Mix jaggery powder with some roasted gram, store it in a bottle and save for healthy snacking during busy hours.
5.Ghee with Jaggery – This is the classic desi combination which can flush toxins out of your body in a jiffy. The duo will help keep your skin glowing, nails and hair healthy as well. It also helps in reducing the acidity in the body. Include both in your lunch or dinner with rice/roti.
6.Fenugreek seeds with Jaggery – Methi seeds with Gur are one of the best combinations for your hair. Winters tend to take away the shine and moisture from the hair, but vitamins from Fenugreek combined with iron and potassium from Jaggery can help prevent this problem to a great extent.
We hope that we've made your life a little simpler. Buy your natural Jaggery here: https://www.safeharvest.co.in/product/safe-harvest-jaggery-powder-500g/