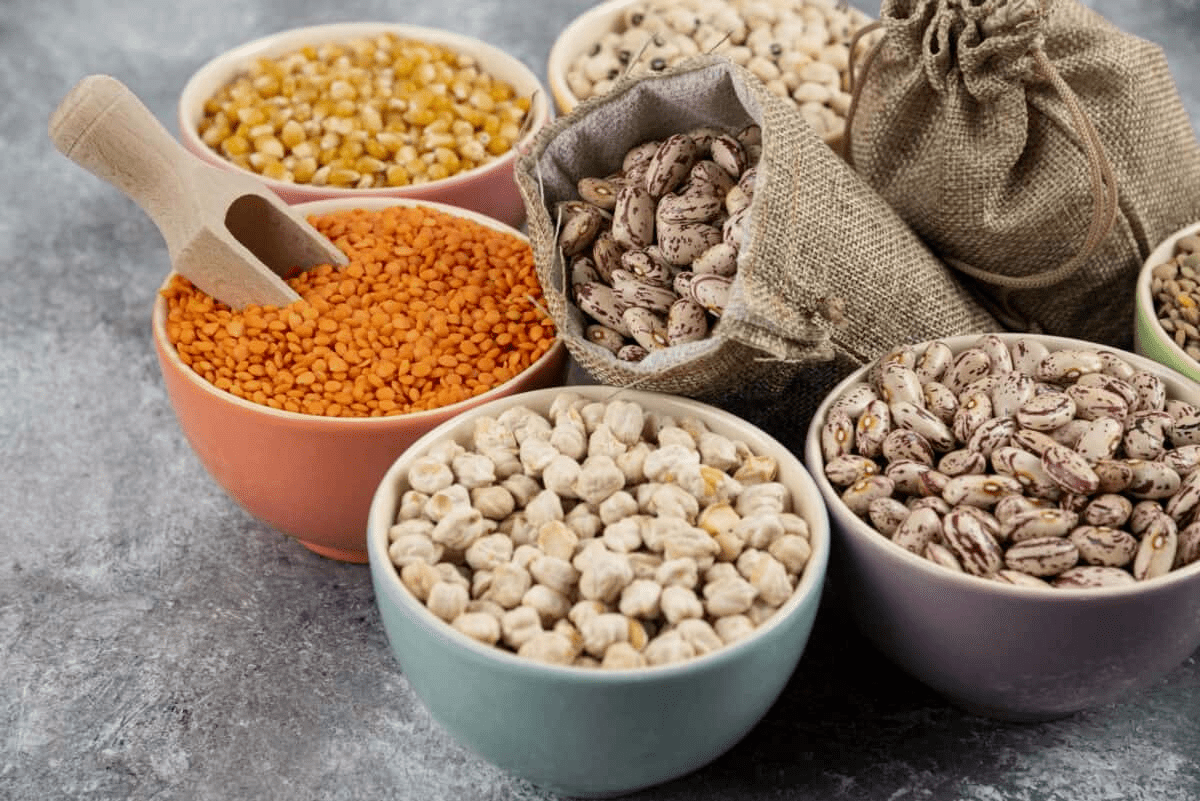 No matter where you go in India, no meal is complete without pulses in them! Pulses are healthier than grains, nutritious, and plenty in variety. They are the edible seeds from a legume plant that are harvested dry; high in protein in fiber and play an excellent role in weight management. Pulses include all types of lentils, chickpeas, black-eyed peas, broad beans, runner beans, butter beans, pinto beans, etc. High nutrition content also makes pulses one of the healthiest foods for vegetarians and vegans that ensure adequate intake of protein, minerals, and vitamins. When pulses are paired with rice, wheat, or other cereal grains high in sulfur-containing amino acids in a meal, the daily essential amino acid requirements are automatically fulfilled. Pulses typically contain about twice the amount of protein found in whole grain cereals such as wheat or rice. Is that all? Pulses are also rich in Carbohydrates, antioxidants like polyphenols, folate, iron, and minerals such as calcium, zinc, magnesium, potassium.
Benefits of consuming pulses-
1.Helps control appetite– Pulses are high in proteins, complex carbohydrates, and fibers, and low in fats that help digest food slowly. This gives one a greater feeling of fullness. They promote steady, slow-burning energy while their iron content helps to transport oxygen throughout the body.
2.Good for the heart- Pulses are extremely nutritious, with less amount of fat and cholesterol, and they help prevent cholesterol-based heart diseases. Pulses have potassium and a low amount of sodium and therefore this helps regulate blood pressure.
3.Diabetic-friendly– Despite having complex carbohydrates, the pulses are low on the glycemic index (GI), which means that they do not let the glucose levels increase in the body. Pulses such as beans, chickpeas, green grams help control increased blood sugar levels too.
4.Reduce the risk of cancer– Pulses are rich in antioxidants and anti-inflammatory agents that help to reduce the risk of cancer. Studies suggest that selenium found in pulses can also help decrease the rate of tumorous growth in the system It also helps to stimulate the immunity of our body and keep our body healthy.
5.Beneficial during pregnancy– Pulses are rich in folate and iron that help pregnant women to keep their requirements up to the mark and help stimulate the production of healthy red blood cells. Some studies suggest it may help prevent neural tube defects in women during their pregnancy.
Safe Harvest assures you the healthiest, and heartiest of pulses for a wholesome diet-
Food grains from her farm to your kitchen- At Safe Harvest, we source produce directly from small farmers through Farmer Producer Organisations that promote Non-Pesticide Management (NPM) and safe practices. Post scrutiny and rounds of testing and cleaning, the produce is carefully stored in such a manner that it does not come into contact with chemicals at any point in its journey to the consumer. We thereby strive the balance between rightful gains of farmers while offering a healthy justified choice to those who consume, making a positive and sustainable difference to the world around us. Think for a moment. What is the point of talking about health, and making recommendations of alternate food choices when one is not assured about the product that lies in his or her hands? Would you consume a pesticide-laced, frozen fancy vegetable supposed to be rich in nutrients or a locally sourced fresh- off-the-farm organically cultivated vegetable?
Our list of types of pulses–
Tur Dal
Urad: Urad Dal, Urad black split, Urad whole black, Urad Gota.
Bengal Gram
Horse Gram
Chana dal/ Kabuli Channa
Mung: Mung Dal, Mung split, Mung whole
Rajma Chitra & Rajma Kashmiri
Red Lobiya
Moth Bean
So how do you get the maximum out of the pulses you consume? Soak and sprout before cooking. This reduces the naturally present anti-nutrients and allows for optimum enzyme action to break them down. Pulses need to be mixed in the right proportion with grains and millets (1:3 with rice and 1:2 with millets preferably) and consumed to obtain the right amino-acid profile. Consuming at least 5 types of pulses per week and in five different ways per month is highly recommended; it can be in the form of dal, papad, pickle, idli, dosa, laddu, halwa, etc. This ensures that we obtain the diet diversity required for healthy gut bacteria. Now, would you underestimate that humble cup of dhal, sitting in the corner of your lunch plate?