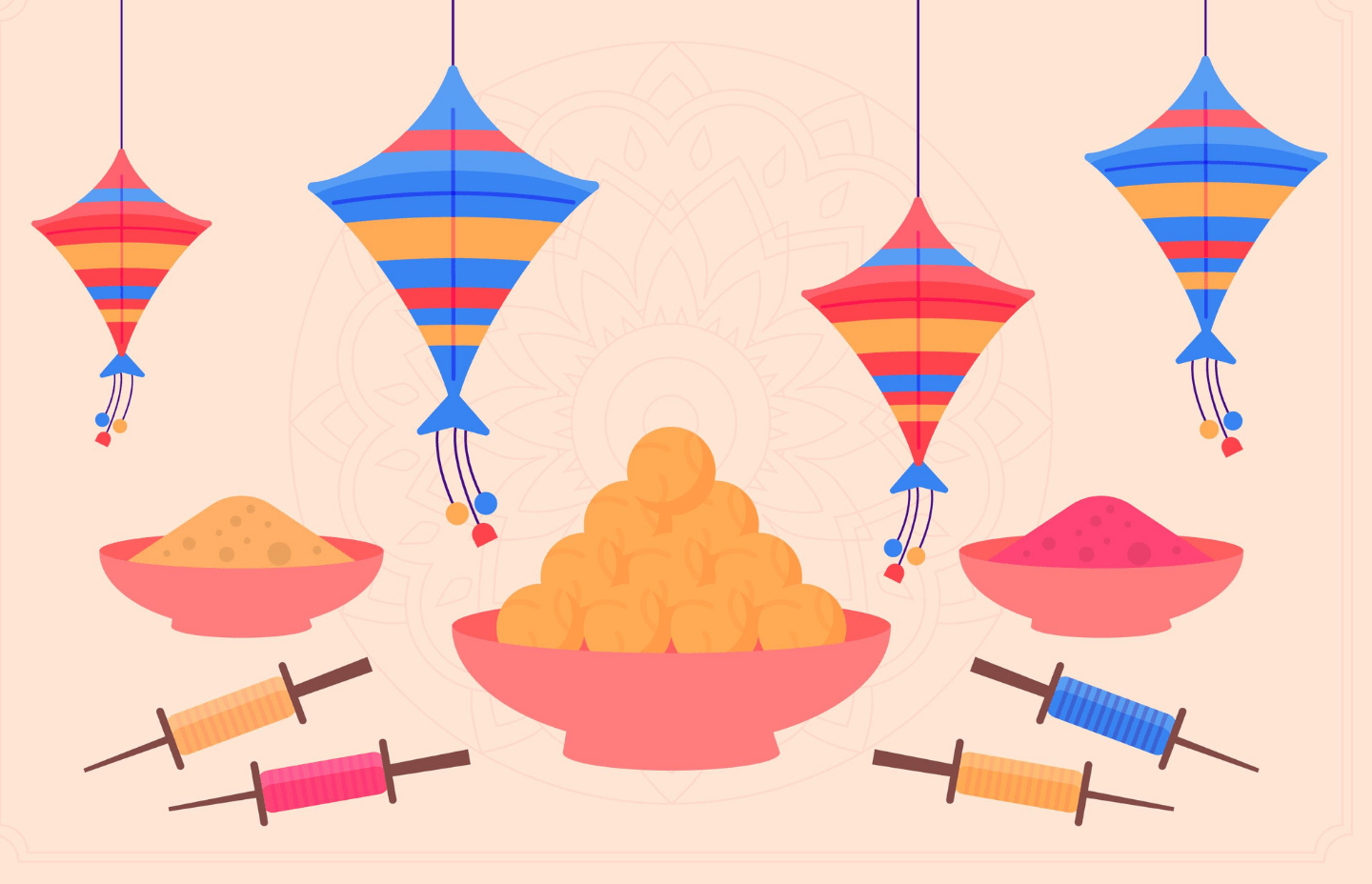 Makar Sankranti or Uttarayan is celebrated across the country in different ways and the cultural significance of the festival varies geographically across states. The festival marks transition of sun  into the Capricorn zodiac sign, the sun begins its northward journey marking the end of the Winter solstice. This is usually the 14th or 15th of January. (Makar means Capricorn and Sankranti is transition) The god is worshipped and revered.
Makar Sankranti is also celebrated as the harvest festival. Different states celebrate this festival as per their local culture, traditions, and needless to say, the best Indian food. Here is how various states across our country celebrate this grand festival.
Maharashtra : 
Makar Sankranti in Maharashtra is celebrated by exchanging "til-gud" (sesame seeds and jaggery) as a mark of sweet beginnings, to forgive and forget misgivings. Aromatic dry ingredients such as dry roasted sesame seeds and crushed peanuts are sweetened with jaggery and laced with cardamom for an aromatic and healthy laddoo. One of the top contenders for the best Indian dish, is it not?
Andhra Pradesh and Tamil Nadu :
The festival is celebrated as "Pongal" for 4 days, beginning the festivities with a "bhogi" where old and used items are discarded. Since it is primarily a harvest festival, the cows  and the sun god are worshipped during these days. Families come together to nurture new beginnings, colorful rangoli adorn entrances, kites flown, sweet and savory "Pongal" is prepared. Sweet Pongal is prepared with fresh rice, jaggery, cashews, ghee, and a dash of milk. Savory Pongal is made with rice, ginger, and whole spices. An absolute delight of wholesome healthy Indian food!
Karnataka : 
Sankranti is celebrated in Karnataka with a ritual called "Ellu Birodhu" where women exchange "Ellu Bella" (regional delicacies made using freshly cut sugarcane, sesame seeds, jaggery, and coconut) with other families. Farmers decorate their bulls and cows in colorful costumes and celebrate the arrival of spring.
Punjab :
The festival of Lohri is celebrated as the harvest season of Rabi crops in the state and the end of winter. A huge bonfire that symbolizes the Sun bringing in warmth is made, with people singing folk songs and dancing around it. It is traditional to eat Makki di Roti with Sarso da Saag, sweets made from jaggery and sesame seeds. Makki di roti is a flatbread made out of maize flour and Sarso is mustard greens. This is one of the best Indian dishes ever for winter, with its nutrient content and immunity-boosting qualities.
Bihar and Jharkhand : 
People from these two states bathe in rivers and ponds on the first day and feast upon seasonal dishes (made with til and gud) as a celebration of a good harvest. The second day is celebrated as "Makraat", where a special khichdi with rice, lentils, and winter vegetables such as cauliflower, peas, and potatoes are prepared and is served with chokha (roasted vegetables), papad, ghee, and achaar (pickle).
West Bengal, Assam, and Northeast : 
In West Bengal, Sankranti, also known as Poush Sankranti is celebrated as a harvest festival. During Poush Parbon, traditional Bengali sweets are made with rice flour, coconut, milk, and 'khejurer guru (date palm jaggery). Magh Bihu or Bhogali Bihu in Assam marks the end of harvesting season in the month of Maagha (January–February). During Magh Bihu people of Assam make cakes of rice with various names such as Shunga Pitha, Til Pitha, etc., and other sweets of coconut called Laru.
The highlight of these healthy Indian recipes made during the harvest festival is that freshly harvested grains and vegetables, seasonal to the state is used. While the essence of the celebration unifies all states, the manner each state celebrates this festival is unique and diverse!